in cleaning out Andrew the external harddrive, I found this. written in April 07 as one of our college center assignments, and rereading it made me cry buckets. reproduced here, word for word and picture for picture, for my own purposes. it's retardedly long and sappy, don't feel like you have to read it. I miss it so much.
I decided someone needed to stand toe to toe with this guy and show the differences. And I think that at times like this, when the world is talking about hatred as much as it is right now, that someone really needs to show the difference. So, our idea is to dress up as angels. And so we've designed an angel outfit. Our wings are huge — they're like bigass wings! And there's going to be like ten to twenty of us that are angels. And because of our bigass wings, we're going to completely block him. So this bigass band of angels comes in. And we don't say a fucking word. We are a group of people bringing forth a message of peace and love and hope, and we're calling it Angel Action. Yeah, this twenty one-year-old little lesbian's ready to walk the line with him.
(Romaine Patterson on the topic of Fred Phelps, The Laramie Project. My favorite monologue of all time.)
Both Ms. Norman and Mrs. D have seen me act in Jesuit shows. Many other Loretto teachers have as well, and I would hazard to guess at least half of the student body. Other than that, I'm not a very remarkable person. I don't play sports or participate in any of the arts at Loretto. I'm not one of the rich popular girls, or one of the stoners, or anything in between - though I'm friends with all of them. I got into this school on a scholarship and recently received the National Merit Commended Scholarship as well, but nobody would know because I take pretty average classes. I was on student council for one year and was infamous for being the least spirited Senator there. So, as you can see, I don't really throw myself out there. I'm the girl who sits in the back of the class with her granny glasses on, occasionally making a comment to get a laugh. I'm the girl who is absent more often than not but still gets good grades. I'm the girl who doesn't really have a set group of friends, but wanders around during lunch talking to just about everyone. All in all, I'm a pretty okay, average person. The only time I think that I really shine is when I'm in the Black Box Theatre.
The story of how Jesuit Drama found me is a serendipitous one. The summer between freshman and sophomore year, I took a class entitled Pop Culture and Mass Media at CSUS. It could have been a good class, had I not been the oldest by at least two years. The kids didn't have the maturity to really carry it, but the professor was intelligent and engaging. She had us read
The Laramie Project
to learn about how people react to social stigmas, and it touched me deeply. I dropped out shortly after we turned in an essay about the play, but I exchanged phone numbers with Prof. Zupan so we could keep in touch. The last thing that I said to her was, "I want nothing more than to be in a production of this play." She told me to call if it ever happened.
I dismissed that. I had always enjoyed acting, but felt it really wasn't for me. I took Theatre Arts at Loretto freshman year and even made it into Advanced Drama, but dropped it during scheduling time. I had essentially given up on drama.
August came and sophomore year began. I brought my copy of Laramie with me to school on the first day, to share with my summer reading group. As I walked through the halls with it tucked under my arm, a girl stopped me.
"Are you in
The Laramie Project
?" she asked.
"Pardon?"
"Well," she said to me, "Jesuit is doing that for their fall play, so I figured you were in it..." My heart turned over and my brain exploded. It was too good to be true, wasn't it?
A few days later, I somehow found myself sitting in the Black Box Theatre for the Laramie informational meeting. They asked for everyone who had never been in their theatre to stand up, and I did. I was struck by how innovative it was - it literally is a black box - and by how the director, Ed Trafton, immediately drew me in with his friendly aura.
I was extremely nervous going into my audition. We were told to come in and tell a story. It could be about anything we wanted. I remember being number twenty-eight, and shaking when the boy who was number twenty-seven went in. Finally, he came out, and the stage manager, Sean McCreight, called my name. He was the older brother of one of my friends, so he tried to put me at ease by steadying me and telling me that I was going to be fabulous. I went in and introduced myself to the drama staff. Mr. Trafton sat in the middle, smiling at me, and there were four other people I would come to know and love sitting around him. Mr. Chandley, Mr. Bischoff, Mrs. Levering and Mrs. McGuire all looked on expectantly as I took a deep breath and began my story.
I told them about my best friend, who is transgendered and living in conservative Texas, and the troubles she has faced. It ended on a note about how she is unable to love herself the way she is, yet she can so freely love others - while I love myself more than anything, but can't seem to open up to anyone else. The panel was silent. Mr. Chandley told me that it was a powerful story. Mr. T told me I had guts to share that with a group of people I'd never met before. We chatted a little bit more (about blowing up Altoids in chem class, no less) and they finally said good night.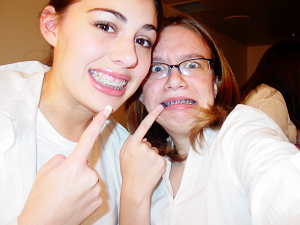 I was pleased with what I had talked about. I went in there with no story prepared and just talked off the top of my head, but it sounded really good. Two days later, I found out that I was one of three girls who got called back. As I sat between a sophomore at St. Francis and a girl in a Loretto uniform I had never seen before, I wasn't nervous at all. We did readings from
Our Town
and
Angels in America
. They sent us out, and I asked the Loretto girl if she was a freshman. She laughed and told me she was a senior. I was really embarrassed and kept apologizing, but she said it was fine and that her name was Rebecca Cardenas. Afterwards, they called the boys in and told the girls we could go home, and she ended up giving me a ride back to my house. It turns out she had been in the past two shows, and listening to her talk about Jesuit Drama sent chills down my spine. She truly seemed to love it and I just didn't understand.
The cast list went up that Saturday. As my mom and I drove to Jesuit, I reasoned with myself. It was just a show, and if I didn't get cast, no big deal. Yet, against all odds, I was on the list with twenty-four other people. Rebecca was cast as well, along with Gabri Carvidi, a girl on student council with me. But those were the only vaguely familiar names. Mr. Trafton called to congratulate me that night, and the stage manager called to inform me of when the first rehearsal was. Their voices were strange and unfamiliar, and I didn't even know what to say to them. I mean, who was I to them? I wasn't important! Why did they even care?
Before I knew it, I was in the Black Box for three hours a day, every day. The unfamiliar smell of the air permeated my clothes and followed me everywhere I went. The sign over the stage door entrance that said "leave your ego at the door" scared me at first, but soon it became comforting and familiar.
But soon enough, the names on the list and the voices I had heard on the telephone became real to me. We all became fast friends. For the first time, I had friends who were guys, and friends who seemed to actually care about me. Outside of drama, I realized that my relationships with everyone were changing. I finally left my old group at Loretto, branched out and found new friends who made me happy. My mom and I became even closer because I saw her unwavering support of this new and terrifying experience I was going through, and I loved her for it. And every single person in the cast, crew, and drama staff became my family.
Two months later, Laramie ended. It had been the most stressful, emotionally draining experience of my life...but I loved it more than I had ever loved anything before or since. It was a cathartic release that I desperately needed. On November 13, 2005, we finished our last show. More than 150 hours of rehearsal time, at least fifty people in involved in the production, and eight shows later, it was all over.
Life after Laramie was really difficult, and I didn't know how to handle it. I felt that I needed to continue doing drama, because nothing else made me feel that way. The smell that followed me home every day and clung to my clothing was fading. It became fainter and fainter - the smell of sawdust, fresh paint, dust, heat from the overhead lights, and Mr. T's cologne. I missed it more than I could put into words. People wanted me to just shut up about the play already and didn't understand why I loved it so much. To them, it was just a show. But to me it was so much more. So, because I could see no way around it, I ended up auditioning for the spring musical,
Aladdin Jr.
I am not a singer. Far from it! I've never been trained and am actually considered tone deaf. I'm also not much of a dancer, and had never tapped before in my life. I went into the audition with a group of Laramie kids, and they were incredibly supportive. However, I was by far the worst one in the bunch. I couldn't even keep up with the simple tap dancing that we learned. I didn't expect a call back, but I thought that maybe - just maybe - they would cast me. That taught me not to get my hopes up. I was sad that I wouldn't get to spend the next three months with the people I'd grown to love so much, so I decided to do tech work instead.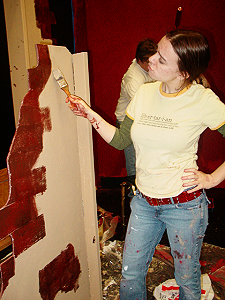 That was an emotionally rough time for me, so I poured myself into the tech work. I worked hard and was eventually told by the new stage manager, Joey Baumann, that I was going to be a spotlight operator for the show. It was fun and I enjoyed the work, but every show made me wish I was in the cast more and more. I didn't bond well with the other techies. Many of them were sexist and just not very nice to me. I talked to Mr. Trafton about it, and through that, we became very close. I promised to return in the fall, and he seemed glad.
One thing that was difficult to deal with that I didn't see coming was the graduation of the seniors. Most of my new friends in drama were seniors, and at the '06 graduations, I had a hard time keeping it together. There was a particular group that took me under their wing - David Rekow, Ryan Rodriguez, Sean McCreight, Kevin Caceres, Gabri Carvidi, and Rebecca Cardenas were my guides. When junior year came, I realized just how hard it was to not see them every day, both at Loretto and around the theatre. I entered junior year ready to start another show, and was thrilled to hear that we would be writing an adaptation of the movies
Heaven Can Wait
,
Down to Earth
and
Here Comes Mr. Jordan
. Considering I was raised on the last movie, I was extremely excited.
The audition was pretty standard. I memorized a monologue from the one-woman play
The Search for Signs of Intelligent Life in the Universe
. I spent every free moment developing the insane character of Trudy. My audition went really well and I wasn't nervous at all. Because I was so off-the-wall and crazy in the monologue, I wondered if they would give me a character like that. And while I was cast, I got the antithesis of the crazy woman. I got the silent, ever-present angel named Manifest.
Heaven Can Wait
was an experience. Mr. Trafton and I met for a one-on-one meeting in the middle of the rehearsal process, and when he asked how it was going, all I could say was, "it's...interesting." The cast was twenty people, over half of whom had never done drama before, and very few were seniors. This isn't necessarily a bad thing, but it created a bit of a weak foundation for everyone. The bonds were not nearly as close as they were during my past two shows. We still had a ton of fun, and I formed a close bond with The Magnificent Seven.
They truly made
Heaven Can Wait
worth it for me. It was a group of six guys and I, who randomly ended up in a garage one night after rehearsal. We started messing with the instruments in there, and soon we were meeting as a jam band quite often. The stage manager, Alex O'Sullivan (a reformed sexist techie who became a great friend), techie Jon Pierce, and actors Joe Lewis, Dylan Jones, Rob Habel, Nick Peterson and I grew really close. At cast parties, which were relatively low-key for that show, we would often go off on our own adventures to restaurants, the river, or Alex's garage to jam. It was a group of guys I wouldn't imagine being friends with outside of drama, which is another reason why I love Jesuit Drama. It allows me to meet so many fabulous people whom I wouldn't otherwise.
Heaven Can Wait
ended with little fanfare. I wasn't sad after it ended - in fact, I was more than ready for it to end. I was a little wary of auditioning for the musical, but then I found out that it was
Urinetown
. My heart swelled. During tech weekend for Aladdin, when I ended up eating Chinese food at midnight with Mr. T, and Mrs. Lev, we discussed musicals that we loved.
Urinetown
was one of my favorites and had been for quite some time. I even had the libretto at home. I gathered up my confidence for the informational meeting and was so stoked to see everyone.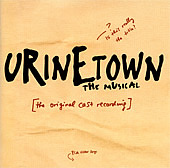 Then, not two hours before the blessed end of school when I could finally rush off to Jesuit, I was called to the office. There was a phone call for me, telling me that Jessica Cooper, my best friend from childhood, had died in a car accident. She was two years older and going to college in Idaho. I sat in shock. We had just talked a week ago. How could this have happened?
I didn't want to go to the info meeting. I didn't want to do anything but go home and sleep this off. Then it randomly hit me that Jessica was the person who got me into theatre. The first play I ever saw was
Grease
, where she played Rizzo. She had a gorgeous voice and always encouraged me to act. Musical theatre was her real passion, and just a week earlier I had called to tell her about auditioning for
Urinetown
. She said she wanted to come see it whether I was cast or not, so we planned around her schedule and ultimately decided that she would come to the student matinee. Before we hung up, she wished me luck and said she was proud of me.
So, I went to the meeting. I filled out my audition form and decided that I would do this show - in the cast, on tech or even just in the audience - in memory of her. I went into my audition confident, and according to Mrs. Levering, I had improved since the year before. I think it was my attitude. I just had fun with it, rolled with the punches for the singing, and danced my little heart out. Alex told me that they were casting for the male and female leads at call backs, so imagine my surprise when I was actually on the call back list.
Call backs still make me flinch when I think about them. I hated the song we had to sing and absolutely butchered it. I was jealous of the boys getting to sing Run Freedom Run while we got the slow love song. Unsurprisingly, I was one of the first people cut. I went home knowing that I was not lead material, but holding onto the hope that maybe - just maybe - they would consider me for ensemble.
They did.
I bounced off the walls when I saw my name on the cast list, along with twenty-eight others. For the first time, I really wanted to be cast. For Laramie I didn't know what I was getting myself into, for Aladdin I didn't expect to be cast, and for
Heaven Can Wait
I was positive that I was in. But I wanted this more than I had ever wanted anything.
There was a lot of animosity surrounding my casting. People said that I was only cast because Mr. Trafton knew about my friend dying. One friend of mine stopped talking to me when I was cast and she wasn't. As people grew angrier with me getting cast, I told them over and over that if I could give it to them, I would. I eventually stopped saying that because I realized it wasn't true. I had gone into the audition room on my own free will, tried hard, kept the right attitude the entire time, worked up every ounce of courage I had to not fold under the pressure, and I wanted it. But it eventually dented my self-confidence, and by the time the first rehearsal rolled around, I was terrified.
There's always one person in every show that you look at and wonder, "why were they cast?" I didn't want to be that person. Yet I knew that I was going to be the least trained and probably least talented person there. Walking into the theatre again was soothing, yet unfamiliar in a way. There was a piano where the podium used to be, there were a lot more people than I was used to, there were hours of sitting and learning the songs note by note. I hated it in the beginning. Cameron Clark, Nick Peterson and I started the We Hate Singing club after a couple of weeks. I didn't like the vibe I was getting from the cast, and the sporadic dancing days were the only things that kept me going.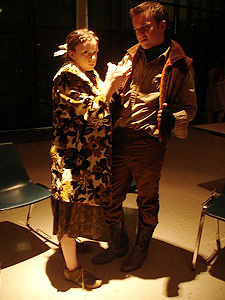 I don't quite know when everything changed, but oh, it did. We began blocking and I finally started to get what we were doing. Blocking is one of my favorite things about theatre, even when it meant spending three hours sitting underneath a ladder with no one to talk to, or repeatedly swinging said ladder around the stage - yet somehow never doing it fast enough. But as we got further into the show, I got to develop my character more, and I truly began having fun with the show.
You see, on the first day of rehearsal, everyone was asking Mr. Trafton to tell them about their character. I loved the description I got from him. "Pigeon Alice is a crazy old lady who carries dead pigeons around in her pockets and sort of has no friends." Mr. T and I fleshed it out more as time went on - we decided it would be sadder if she was a young woman, and I developed a tendency to lick my pigeons. My costume was extremely heavy and there were feathers coming out of my hair at every angle. Even before the show opened, people were telling me that I was totally creepy. I loved it. It was the most fun I had ever had on stage, and I knew I could push it further.
Opening night came as a shock to me. It seems like it's so far away during rehearsals, and then all of the sudden, it's right around the corner. The entire day of March 8 went painfully slowly, but as soon as I walked onstage during the overture, everything went by faster than I had ever imagined. I remember after opening night, Mr. Trafton hugged me and said, "you're scaring me - I love it!" I decided to up the creep factor, and every night I got worse. It was difficult to spend two hours hunched over under extremely hot stage lights while still looking crazy, but I loved every second of it.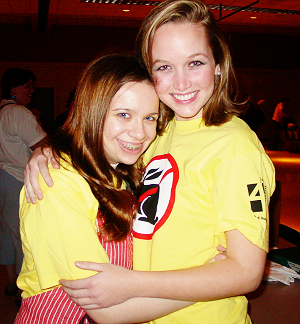 After opening night, everything went by so quickly. I tried to grab on for extra time with my castmates, but it was impossible. This was the closest cast I had been in since Laramie. It was so amazing. They became my second family. I especially latched onto the seniors, as usual - Derek Appelblatt, Kayla Berghoff, Kelley Jakle, Molly Riehl, Sean Mullin, Michael Driscoll, Alex O'Sullivan and Neil Clark all but adopted me during the run of the show. I spent an entire night after one of the shows with Kelley, talking about drama and writing lyrics for our tribute song to Mr. Trafton. We cried buckets that night. Although Kel and I weren't extremely close in the past three shows, we had somehow bonded during this one. It was the realization that this was her last show, and my personal realization that I would be a leader next year. Every year, I had looked to the seniors for guidance and support, and they had always delivered. They had been my greatest friends in drama, but next year they wouldn't be there. It would be me. And I didn't feel strong enough to take that on.
Time went on, and every night I loved
Urinetown
even more. I never got tired of it. And the We Hate Singing Club? Disbanded. I still didn't love it, and I will never sing a solo in my life, but I found that I didn't mind singing for two hours every night. The vocal warm up before every show was my favorite. It was especially beautiful on the night of the strike.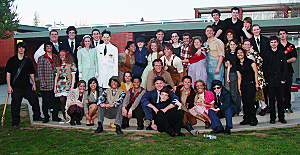 That was a magical night for me. We stood overlooking the lawn behind the SLC as we did our prayer and warmed up, and believe me, "mah meh mee moh moo" never sounded so beautiful. I couldn't look at the seniors without crying. Alex squeezed my hand so tightly during the prayer, and he looked as if he was going to burst from trying not to cry. I can't imagine how he felt, having been the face of drama tech since he was a freshman. There were many hugs before we went onstage the final time, and I believe it was our best show of them all. Afterwards, I remember Derek hugging me and telling me not to cry, to be happy that we did such a good job. And I didn't cry for the rest of the night, though I definitely was emotional. It sounds corny, but I was too happy that it happened to be sad that it was over.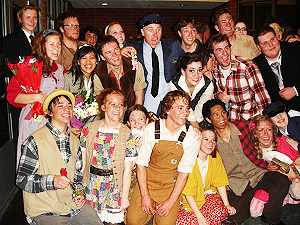 After
Urinetown
ended, I was left feeling a little empty. I knew that there was no place I would rather be, however, I can't help but wonder what next year will be like. I'm in a position of power for my senior year in drama, and it scares me a little bit. I began to reflect on what drama has done for me, and it convinced me that I am going in the right direction in my life right now.
Jesuit Drama has given me a sense of self-worth. When I'm in the Black Box, I feel special. I let my walls down when I'm in there, and I find myself surrounded by people who love me and believe in me. Every show has taught me a different but equally important lesson. During
The Laramie Project
, I learned to be open and honest with my emotions, and to accept and love people as who they are and not try to change them. Doing tech for
Aladdin Jr.
made me realize the value of hard work and defending oneself.
Heaven Can Wait
taught me that things don't have to be perfect to be wonderful, as well as skills for dealing with difficult people. And
Urinetown
taught me to never doubt myself or my abilities. Most of all, my time in the Black Box has taught me not to take anything for granted. I am even more appreciative of life because of my experiences over the past two years, and I thank my lucky stars every day and night that Jesuit Drama found me!